Just a warning, this is a bit long winded ;)
Hubby and I took another trip to Central New York about a month ago
(I'm very late posting my pics, shame on me!)
We met up with Wendy at Wall-to-Wall books and her husband and did a little bit of
winery hopping and went to a cute gift shop.
Hubby and I then checked into a cute little motel that looked more like a bed & breakfast. There was even a resident cat that hung out around the motel (outdoors). The whole set up was very charming. After checking in hubby made a phone call so I decided to sit outside on the lawn chairs. The cat came with me and hopped on my lap wanting attention. I gave her a quick scratch secretly hoping she would get down if she didn't get the attention. I don't mind cats but at the same time I'm also not a huge fan of cats I don't know. Well she hoped down alright, but not before biting my wrist! She didn't break skin or anything but I was still surprised. I satt there and then was bit by a mosquito…all within less than a minute. So I mumbled to myself 'forget this, I'm going inside'. From that point on, this cat was deemed Devil Cat! I mostly tried to stay away from her, haha.
Along with Devil Cat, we also had a bit of a spider problem in our room. Every evening we would get massive spiders in our room…ok I may be over exaggerating on the size a little but they were between quarter sized and half dollar sized. One of the evenings we were laying on the bed watching tv and I went to the bathroom and when I came back I was 2 feet from the bed and I stopped in my tracks and said to hubby 'get out of the bed'. He was confused but he got up. One of those spiders was on the bed right where I was laying, EEKK! I was totally creeped out! We had to pull all of the covers off the bed and shake them out before I would lay back down!
I know I just concentrated on the two bad parts at the motel but I decided to not bring up the name of it because even though it wasn't a perfect experience, the owners were very nice. They were telling us about the area and also suggested some less touristy places to eat that ended up being fabulous! The room was also nice with great ambiance.
On to other parts of the week...
We visited more wineries, took a tour of one of the wineries, scoped out some waterfalls around Cayuga Lake, found some good places to eat, went to the Corning Glass Museum, and got to make glass pumpkins at the glass museum. Well technically all we did with the pumpkins was pick the colors and blow the air into the slug but it was still neat seeing the process up close!
Glass Pumpkins
My pumpkin is darker so I cheated and used a flashlight to make the color more visible :)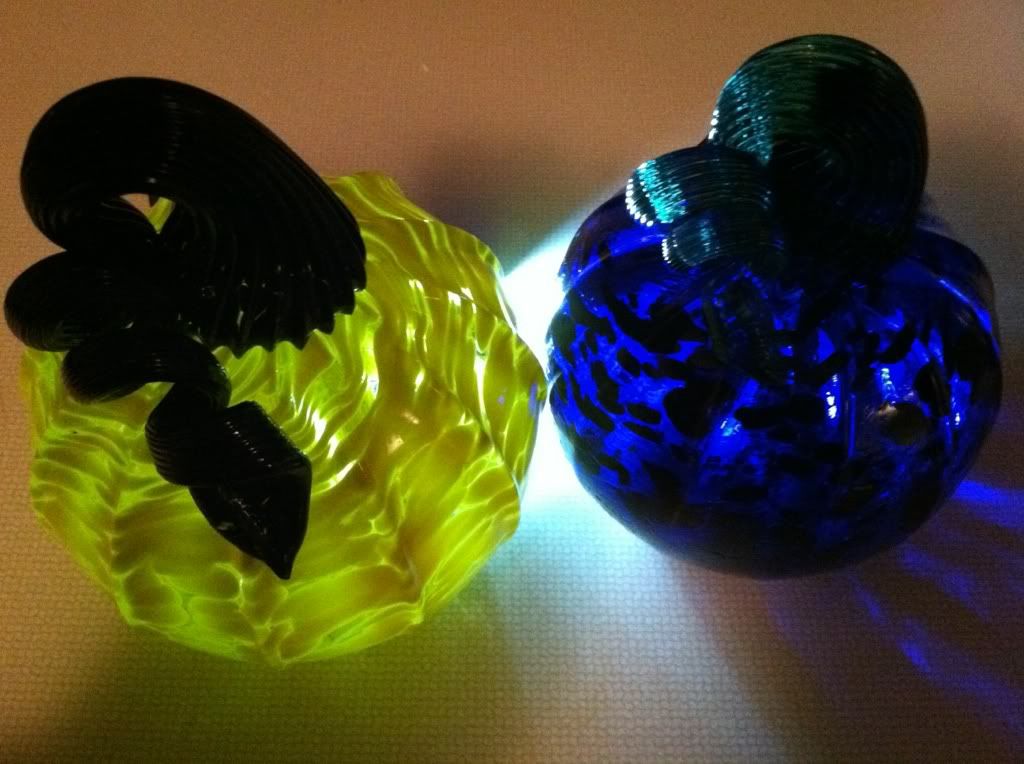 On our last day in New York, we met with
Wendy, her daughter Ashley (Fictionista blog), and Ashley's main squeeze. We had coffee, checked out some waterfalls in the Watkins Glen area, and had a nice lunch at a lakeside park.
Wendy and Ashley…You can tell they are mother and daughter because they are
standing
exactly the same and I bet they never noticed it, haha!
This was our beautiful lunch time spot
It was great to see Wendy, Ashley and their significant others! I'm sure we'll head to New York again to see them!
We also went home with a nice collection of wine! We're still new to wine drinking so we are experimenting with sweets and semi-sweets for now.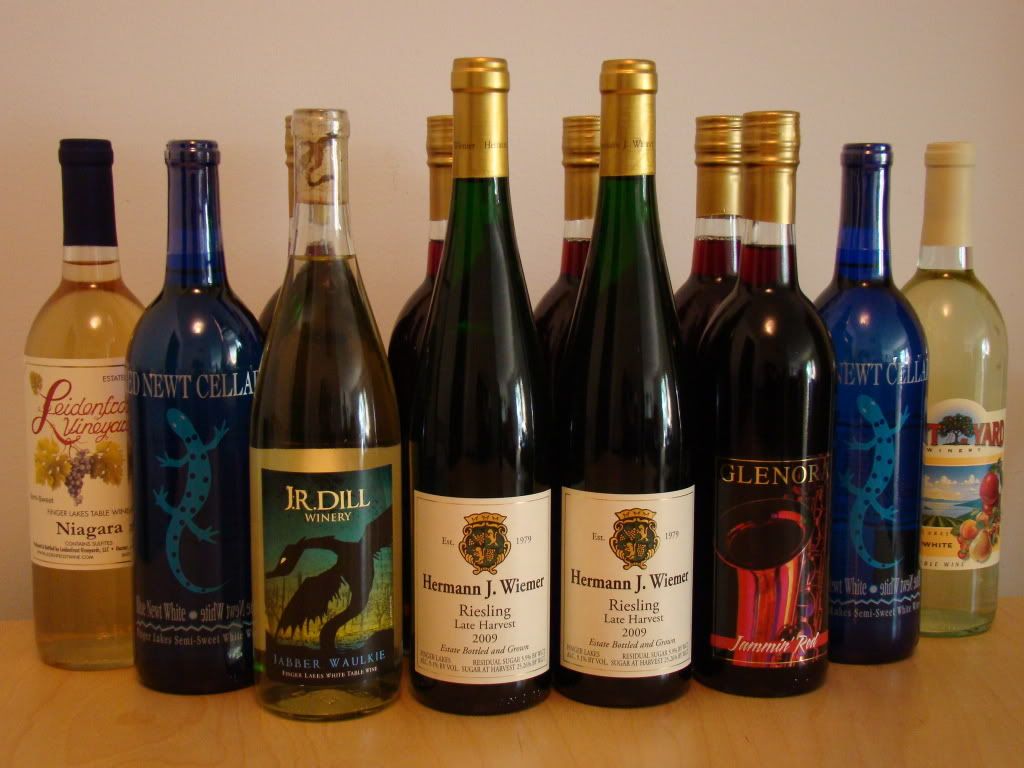 Thanks for reading :)