*Just a quick warning, this will be a looong post*
I love to collect books (ebooks and paper books...I'm an equal opportunity booker) and I also collect signed books &/or swag! Finding signed books is like a treasure hunt, always searching for the next pot of gold! This post will be me showing you my loot as well as telling you how I found them so stick around for some tips and some great bookstore links!
My very first signed book was Poison Study by
Maria V. Snyder
. She was having her first book signing where I was working at the time (the store has since closed, sad face); she was really nice and the book sounded interesting so I bought one. I LOVED it and have been following her ever since. So the first way to get signed books is to go to signings.
- - -
I also acquired Shade and Shift by
Jeri Smith-Ready
by going to a signing at
Cupboard Maker Books
. I don't think they sell signed books online, but it's worth a shot to keep an eye out for events then call and ask if they will sell you one over the phone.
- - -
Next up is
Barnes and Nobles
. I linked their name to a great page where you can search events by author or location. That's how I found the below books; I simply called the stores having the events (TX, GA and PA if I remember correctly) and asked if they would send me a signed copy. I don't know if all stores will be so accommodating but what's the worst that can happen? If they say no just try another store. If you're not comfortable giving your credit card information over the phone, I would suggest buying a B&N giftcard. I paid for two of the three books with gift cards.
- - -
You can also check Barnes & Nobles main website and just click on the signed books link. That's how I found
Nora Robert's
Bride Quartet with a signed note card.
- - -
- - -
Another great way to find signed books (and help a good cause) is to find book auction sites. I won the below bids on the
Indie Author's Relief Fund
; the proceeds went to Japan's tsunami/earthquake relief. Those bids are closed but they may open the site again for other causes in the future.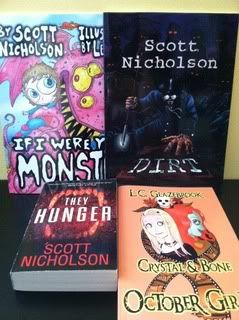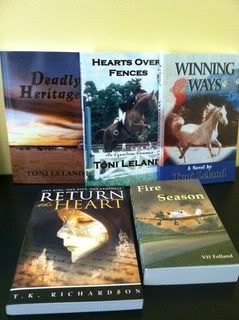 - - -
- - -
- - -
- - -
- - -
The Red Balloon Bookshop
is a recent find. I ordered the two books over the phone and they should be in the mail. Those books are Mockingjay by
Suzanne Collins
and Nightshade by
Andrea Cremer
.
A Book For All Seasons
is another somewhat recent find. They seem to have events on a regular basis. I ordered two signed
Chelsea Cain
books (The Night Season and Evil at Heart) and two
Gregg Olsen
books (Closer Than Blood and A Twisted Fate).
- - -
Another place to get signed (and personalized) Chelsea Cain books is
St. Helens Book Shop
. I wish I would have known that before I ordered the unpersonalized ones from A Book For All Seasons but you live you learn. This book shop has signed/personalized books by other authors too.
- - -
Some additional ways to find bookstores/signed books:
Author's will sometimes tell you on their website where you can get their signed books. They may also have a webstore where you can order books or other merchandise. For example, I found St. Helens Book Shop (mention & linked above) on Chelsea Cain's website.
Some authors will sign books if you send them to the author with a self addressed, prepaid envelope. Definitely do not blindly mail books to authors; I would recommend checking on their website to see if they will sign/return books. Better yet, email them to make sure it's ok...you don't want to lose your books!
BLOGS! I have found a lot of great links just by reading blogs. For example, Actin' Up With Books has an awesome feautre called Love My Indie. I found some of the above bookstores by reading this blog!
I have not tried this method yet but who's to say you can't just email an author and ask how you can find signed books?
If you're a member of Goodreads, you can enter giveaways. Some of those giveaways are for signed books.
With all of the BEA buzz going around I should mention that attending would be a great place to get signed books. I saw one blogger had about ten signed books.
I didn't know where to look when I decided to officially start collecting signed books, so I hope I gave you a few helpful ideas if you are just beginning.
Happy Hunting :)
**Please don't mind the semi-grainy cell phone pictures. And please forgive any spelling errors as this is a super long post and I may have missed one or two.