This book is part of my
Christmas In July, In December Challenge
hosted by Wendy at Wall-to-Wall Books.
Book Summary:
Noell, a hopeless romantic, just knows that her gifts have to be from her senior crush! And geeky Froggy thinks the game is the perfect way to get super-popular Celia to fall for him...except she thinks his gifts are from Jake, the school's resident bad boy, and starts to crush on him! Romantic mishaps abound, but all is revealed the night of the Winter Dance, where there's more than one surprise waiting under the mistletoe.
My Review:
I was on the hunt for Christmas reads at my local used book store and came across Secret Santa. I was interest by the title and cover alone. I know, I know, don't judge a book by it's cover...but it really is cute, haha. The back of the book doesn't include a description, only this...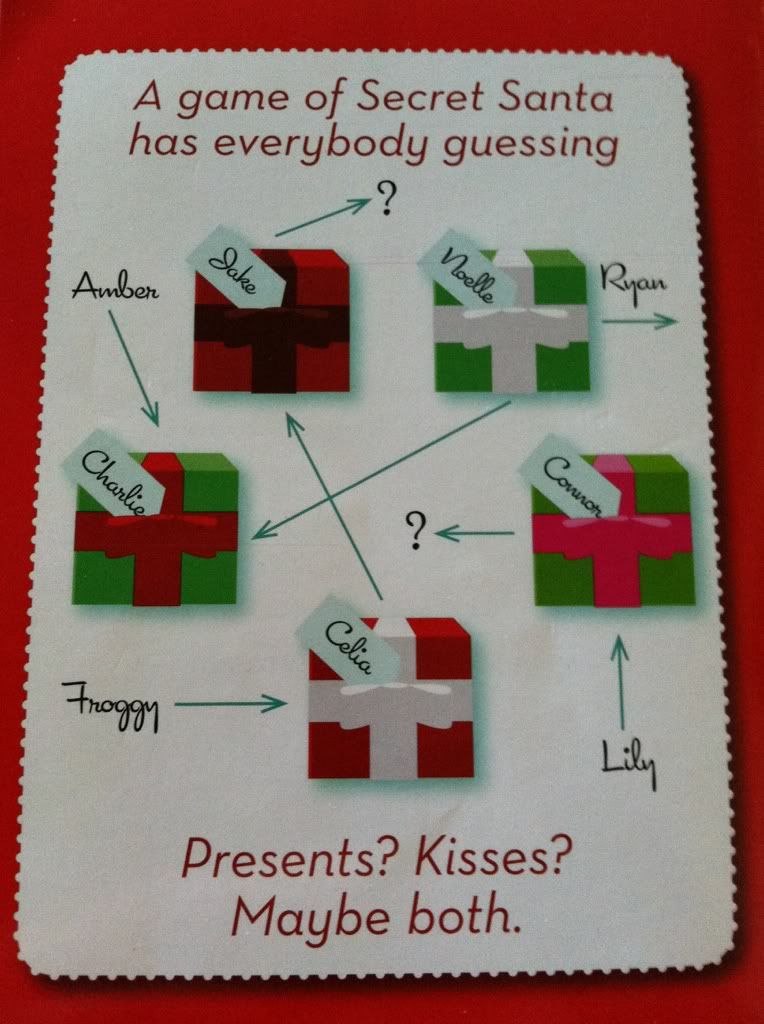 But that didn't stop me, I scooped the book right up without reading any description. It turns out this is a Young Adult Christmas book which is not what I was expecting. I've never read a YA christmas novel but I have to say, I did enjoy this one. It is a light and fun read and it gave me some of the warm and fuzzies that you would expect from a holiday read.
Secret Santa is about a high school that decides to have the entire student body participate in a secret santa exchange. Well, as you can guess, that creates quite a bit of drama among the high schoolers. Many of them see it as a chance to express their feelings to those special crushes. As the back cover suggests it's a tangled web of gift giving. So many emotions are also caught in that web.
Will feelings be hurt, or are there holiday kisses in the future?